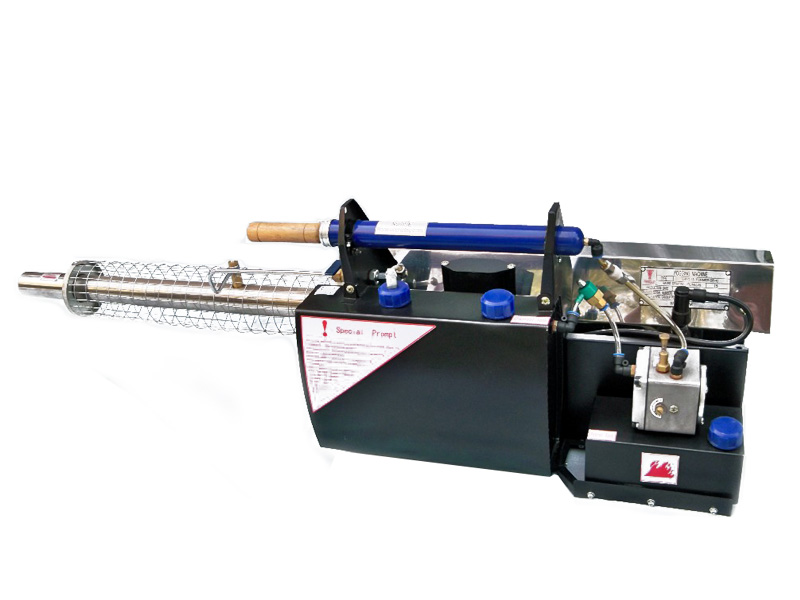 | | |
| --- | --- |
| Model | 6HYC-15 |
| Rated spraying quantity | 15 L/h |
| Gasoline consumption | 1 L/h |
| Chemical tank capacity | 5.2 L |
| Gasoline tank capacity | 1.1 L |
| Net weight | 8.8 kg |
| Fuel | gasoline |
| Ignition power supply | 2×1 # dry cells |
| Dimension(LXWXH) | 1300 X 285 X 338(mm) |
Production Introduction The energy-efficient trigger type fogging machine is a kind of new spraying, fertilization, insecticidal sterilization machine, which is designed and manufactured using the pulse jet principle of space rocket engine. Without any rotating parts in whole machine, so there will be no mechanical wear in any case, and durable in use. This machine can make chemical and fertilizer into foggy shape, with excellent penetrability and diffuse, good adhesion, and strong resistance to the rainwash, featured by the simple operation,the reduction of chemical dosage substantially, high work efficiency, good insecticidal sterilization, and environmental protection. The control height can reach more than twenty meters and breadth reach spraying 20-50 mu per hour), which is that any instrument cannot achieve. Application Fields Agricultural fogging machine is suitable for the pest control of forest, nursery garden, orchard and tea plantation, the pest control of cotton, wheat, rice, corn crop and large areas of meadows, pest control of garden flowers and trees, vegetable garden in cities and suburbs and plants in greenhouse, the sanitation and disinfection of hospitals, meeting rooms, theaters, stadium, docks, stations, buses, passenger trains, disinfection sterilization of urban sewage and heating channel, cellar, air-raid shelter and various warehouses. It is a new machine with insecticidal, disinfection and epidemic prevention functions. The fogging machine can be effectively used to purify the human living environment(especially for the high density population accumulation areas), epidemic prevention, plants and animals pest control, and epidemic prevention of human living environment except for effectively epidemic prevention of all kinds of agricultural and animal products diseases.